So this was a very technical night. The knockouts weren't high, the finish rate not the best, but this was a fun one and a great one if you're a hardcore MMA fan as we had many future contenders on this card.
Cole Smith def. Mitch Gagnon by Unanimous Decision
I won't lie. I did not give Gagnon as much credit as I should have for this fight. He may not have gotten the win, but he at least got another fight under his belt after such a long layoff. Although I thought Smith would have the advantage on the feet, he liked to go to his wrestling and head to the ground. Watching the fight, I thought it may have been an issue since Gagnon's strong suit is his submissions. However, Smith came away with the win easily in many judges eyes.
Arjan Bhullar def. Juan Adams by Unanimous Decision
I'm gonna chalk this one up to biased judging. Could I see Bhullar winning? Yeah, sure. But in unanimous decision with one judge scoring it 30-27? Not a chance. Bhullar's words after the fight were "Every time I went in there I took him down." That's just wrong. He had two takedowns and missed the rest, often badly.
The fall for Adams was that he kept on going into the clinch over and over. I don't get it. I mean, you're up against an elite wrestler with decent punching, while you have decent wrestling and elite striking. Seems like a no brainer, right? Not for Adams. His fight IQ was not the most impressive, but his power also didn't show up. I still think Adams has promise and this loss gives him parts of his game to work on. Bhullar, on the other hand, I don't see getting better. This was a fluke win in home territory.
Matt Sayles def. Kyle "Tomato" Nelson by Round 3 Submission
I did not see a submission at all. Sayles has power and he showed it in that first round, where I thought Nelson would go out. Nelson got red asf then came back to take a second round. In the third, Sayles clipped him more than finished him on the ground. This was a wildly entertaining fight and makes me excited for more of Sayles in the future. This fight made him look a lot better put together than I thought at first and I see him potentially going very far.
Nordine Taleb def. Kyle Prepolec by Unanimous Decision
No one was really surprised Nordine got the decision. I have nothing to say about that. The fighter whose stock rose significantly was Prepolec. Being a natural lightweight, Prepolec stepped up and showed himself off well. At 155, he may be a killer but I don't want to see him stick around at 170 he just isn't naturally built for that weight class.
Vince Morales def. Aiemann Zahabi by Unanimous Decision
Worst fight of the night.
Macy Chiasson def. Sarah Moras by Round 2 Knockout
Well, if you're following my lil' musings here, you're making free money. I said Chiasson would win with a second-round knockout and what do you know? Macy showed her defensive ground game well and also showed her striking pedigree. Her stock is only going to rise higher, so get on the hype train while you can.
Andrew Sanchez der. Marc-Andre Barriault by Unanimous Decision
So Barriault's counter-wrestling did not show up in the way that I thought, but he put on a great show. His striking was amazing and so entertaining. This was maybe the most competitive fight of the night and it was a great time. I really like Barriault going forward but I think Sanchez doesn't have the edge on many fighters.
Walt Harris def. Sergey Spivak by Round 1 Knockout
Knockout in less than a minute by someone with no chance of a title shot. Entertaining, though.
Merab Dvalishvili def. Brad Katona by Unanimous Decision
Merab might be one of my new favorite fighters. He had a dominant performance with amazing striking and cardio, along with a hell of a speech at the end that was fun to listen to. I really like Merab going forward and I think that if he cleans up his defensive game, he will be a real threat. Katona remains a solid striker, but does not look good against wrestlers or anyone with knockout power.
Shane Burgos def. Cub Swanson by Split Decision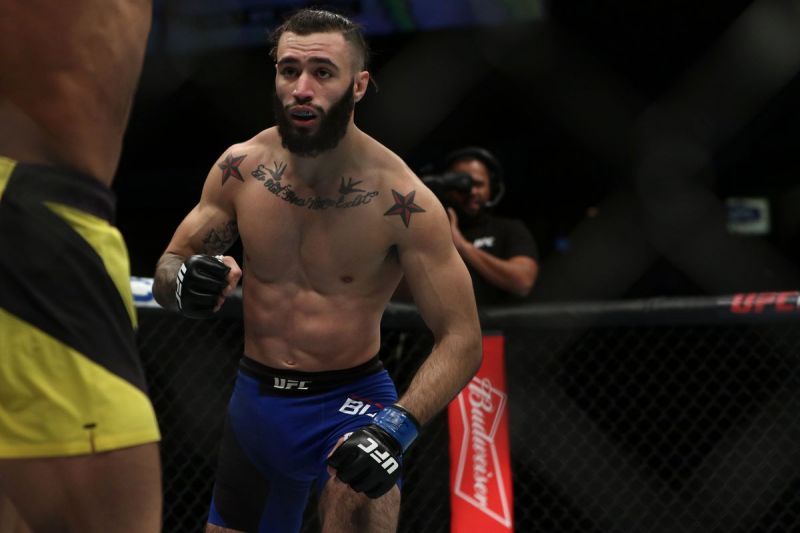 Sadly, it seems like Killer Cub is going to become a gatekeeper for the Featherweight division. This was a great fight and both came in ready to swing. I have heard comments that Burgos' defense looked a lot better, but I disagree. Swanson's accuracy just wasn't enough to truly punish Shane. I'm looking forward to some nice underdog money against him in Burgos' next fight. Plus, he looks like an ape.
Derek Brunson def. Elias Theodorou by Unanimous Decision
Yet another example of where the judges were blind. 30-27 for Brunson? Theodorou had him outstruck in the second round and that's coming from someone who picked Brunson. Derek cleaned his game up and didn't come out with the same reckless abandonment that is typical of him. He leaned on his wrestling and more technical striking to win a decision. Prior to this, I thought Brunson never would see anything close to a title. However, he showed a much more evolved and skilled game for how he can play out going forward.
Theodorou lost half his Canadian fanbase by literally turning tail and running away. I think Theodorou is doomed to prelims from here on out.
Donald Cerrone def. Al Iaquinta by Unanimous Decision
I watched the first two rounds and was thinking, uh-oh Al's got his number. Cerrone turned it around in the third and landed a big knockdown along with completely outstriking Al on the feet. He didn't even lean on his ground game, which was very surprising to me. Maybe we have a new fighter in Dad Cerrone. How about Cerrone vs McGregor on the same card as Gaethje vs. Ferguson/Iaquinta? That would make me very, very happy.
This was a good one. Next week, we have a PPV card and I'm going to try to get my predictions out by Wednesday.
Until next time, Freaks.