Although our co-main got cancelled we had a fun, finish-heavy night here, all capped off by a killer main event. On top of that, a bunch of debut fighters and contender matches made this one something you can't miss. Well, the results at least. So here I am.
Joel Alvarez def. Danilo Belluardo by Round 2 Knockout
I thought this match was a really nice showing for both fighters. Belluardo had Alvarez's number on the feet and cracked him a few times. His mistake came when he decided to take Alvarez down. A simple look at the record of "El Fenomeno" will tell you he's a ground expert and that's exactly how this played out. Alvarez was able to reverse the position quickly and then ground and pound his way to a victory.
I think Belluardo has promise in the UFC. He is a fighter from a country with fairly low representation but also has a true MMA style where he loves to fight from anywhere. His biggest problem here was his fight IQ and that will be something that should hopefully get better the more he goes into the cage. Alvarez looked to play by the same book he always does. Not the best standup but a murderous ground game. He needs to improve on his feet if he wants a true future in the cage.
Devin Clark def. Darko Stosic by Unanimous Decision
This was the only match where i disagreed with the judges' ruling. I thought Clark easily won the second and the first one with that massive crack he smashed Clark with. There wasn't one defining moment where I thought Clark had him dominated and I truly don't see a unanimous win here for him.
With that out of the way, I still think Clark is garbage. Nothing he did here changed my opinion except that maybe his chin is a touch better. Stosic looked solid in there and certainly more well-rounded defensively but still has work on his fight IQ and prep against his opponents.
Bea Malecki def. Duda Santana by Round 2 Submission
UGHHHHH, this was so bad. It was a fun fight, don't get my wrong but oh my god, was it low-level. Santana (who is actually Cowboy Oliveira's half-sister) just walked forward pretty much throwing everything but the kitchen sink at Malecki. Viking Girl Bea was defensively sound and threw some of her own offense up, but on the ground she was miserably lost. Her RNC victory came by her pretty much falling on top of Santana in what looked to be pure luck.
This was kind of a sad sight to see. It really shows how shallow the Women's Featherweight division is and against any higher-tier opponents, I'm picking against both of these girls. I have this feeling that one of them will be sacrificed to Megan Anderson to validate Anderson's spot in the UFC.
Frank Camacho def. Nick Hein by Round 2 Knockout
I'm not even mad that I predicted this one wrong! Frank Camacho came in as a completely different fighter and walked over Hein for pretty much the entire fight. Helanded headshots, leg kicks, went for takedowns, and threw a violent assault of body kicks that was terrifyingly reminiscent of Barboza vs. Hooker. Ultimately, Hein couldn't take any more and the ref stepped in, but this was one hell of a fight.
Before this match, I was worried that Camacho simply wasn't at the level of the UFC lightweight division, but he proved me wrong. He went away from his brawl and sprawl technique where he hunted that finish at all costs and simply kept his technique and timing together. This change in camp and style shows that Camacho really is meant to be here and this new version of himself is certainly exciting going forward.
Leonardo Santos def. Stevie Ray by Round 1 Knockout
Everyone along with me thought ring rust would be a factor, but Santos proved us wrong with a quick knockout. It was absolutely brutal and sent Stevie Ray out cold. Although Santos, is 39 years old, he looks young and has taken so little damage that he may be here for a good bit before Father Time forces him to cash his check.
Lina Lansberg def. Tonya Evinger by Unanimous Decision
This wasn't a fight. It was literally Lansberg working a punching bag that would look for a clinch. Evinger was miserably lost on the feet, but also had none of her essential ground game at her disposal. I think she ought to hang up the gloves with this one, because she offered nothing in this fight.
Lina Lansberg drew the lucky straw with this matchup. I think she will hang on in the UFC with her penchant for striking and entertaining battles but her clock is winding down too and she doesn't have the best skillset there is. Sorry Lina, but you're not getting that Ladd rematch anytime soon.
Sergey Khandozhko def. Rostem Akman by Unanimous Decision
Here was our second double debut the night and these fighters were thankfully more technical than their female counterparts. This was a fun, battle match where Akman's pressure kept Khandozhko on his back foot and unable to keep up his combinations. "Honda" kept himself in it with some power shots and wildly accurate striking to get himself the decision.
I'm not sure which fighter I like more moving forward. Although Akman lost the fight, he had an entertaining and surprisingly technical style. Khandozhko looked great on the feet, but he has such a horrible weakness on the ground that any half-decent grappler will be able to exploit in the future. That doesn't bode well for the army of wrestlers at 170 and Sergey may be better off taking a step a rung up the weight ladder.
Daniel Teymur def. Sung Bin Jo by Unanimous Decision
The first round of this was crazy! Little Brother Teymur brought his usual brawler mentality in with Jo and it was working well. So well that Jo decided to close up and fire a few shots here and there to visibly irritate Teymur. I feel like this would have been a win for Jo if it took place in not-Sweden.
Run this back 10 times and Jo wins 8 or 9 of them. He is more technical and the better striker here. Maybe this was just Octagon jitters but he didn't seem like his usual warring self and it showed with the loss. Either way, I like Jo more moving forward, as Teymur still hasn't looked to change that gameplay that gave him his last three losses.
Christos Giagos def. Damir Hadzovic by Unanimous Decision
This was an awful fight. The first round was a crazy brawl that left Hadzovic gassed out at the end, and Giagos followed at the beginning of the second. I really have no analysis here other than that bot fighters need to go for some runs.
Makwan Amirkhani def. Chris Fishgold by Round 2 Submission
After a close battle on the feet, Makwan Amirkhani went to the ground just to end up in a submission attempt from Fishgold. He was able to expertly maneuver himself to reverse it and find himself an anaconda choke that he squeezed out for the win. This was the grappling and striking match that we were all hoping for and was incredibly technical and an impressive showing for both parties.
I think Mr. Finland may be on a rise. If he stays active and fights through adversity like he did here, we may have a rising star on our hands. Fishgold looks tone still working out some of the chinks in his armor but I believe his mixed approach to striking and grappling makes him a tough match for anyone on the other side of the cage for him. This is 100% a match that I can see happening in a few more years.
Aleksander Rakic def. Jimi Manuwa by Round 1 Knockout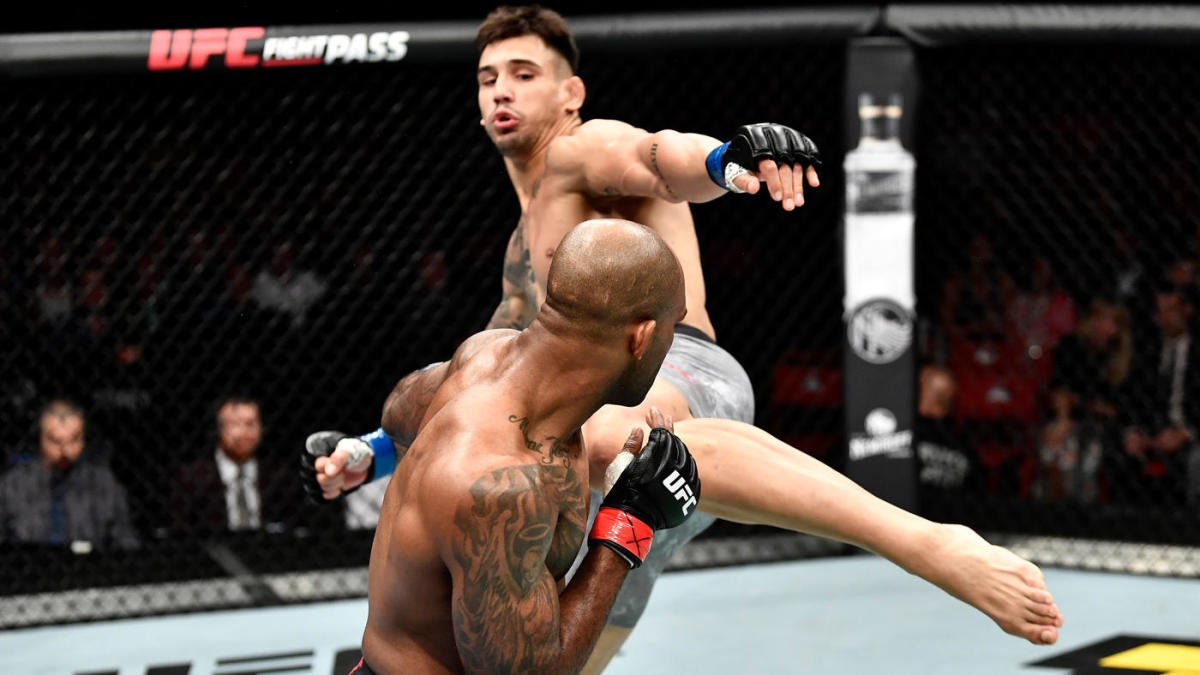 BOOM! He drops him! Aleksander Rakic showed that brutal power everyone was looking for inside the first minute with a gorgeous left hook to a left high kick combo. While it's easy to shit on Manuwa for his chin, I think this shot would have dropped anybody. If you look at the precision and power behind that, it's frightening enough to make you wince a little on your couch at home.
Rakic cemented his spot as a rising star for 205 pounds and will surely have a number next to his name by this time on Monday. Hopefully we see Manuwa come back with a win, but I would like that to be what he goes out on. At 39 years of age and an abysmal defense rate, he can't take much more of these vicious beatings.
Anthony Smith def. Alexander Gustaffson by Round 4 Submission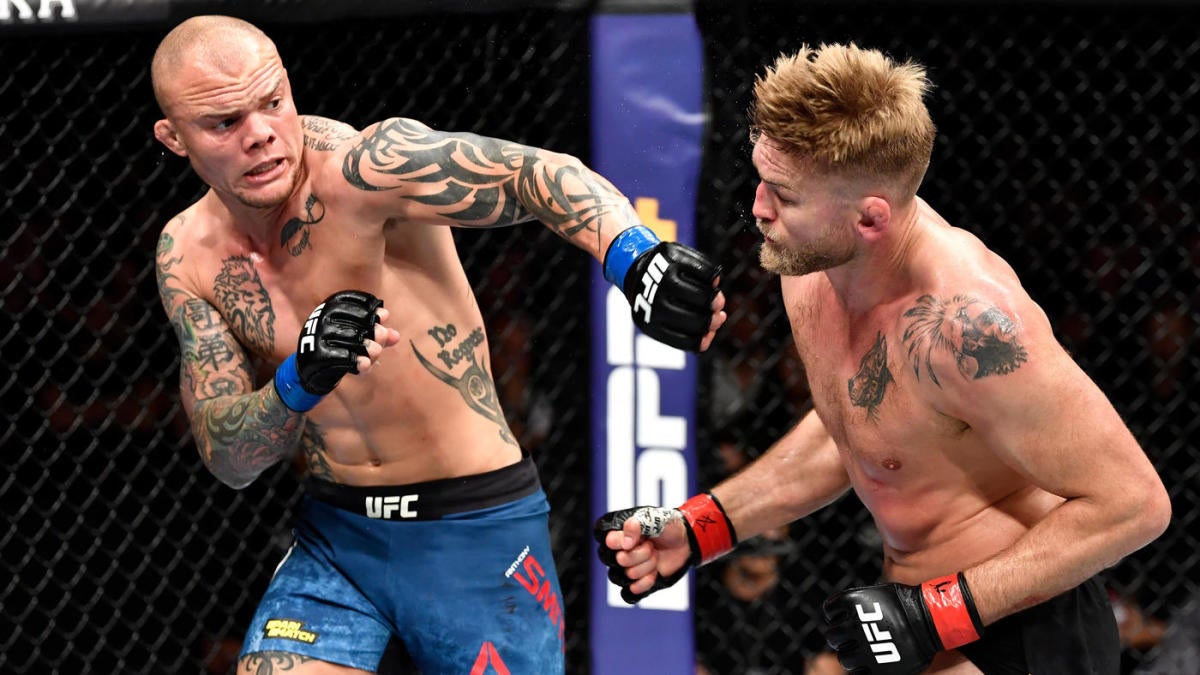 This was beautiful. Absolutely beautiful. Smith showed every single hater why he deserved that Jones fight and why deserves a rematch. When Smith is pressuring, he can piece people up from a distance, as well as throw that brutal power. Everyone who disregarded Smith's jiu-jitsu, apologize to him now. He is a mixed martial artist through and through and being able to work out Gustaffson on the feet AND the ground is a feat very few, if anyone, can say they have accomplished.
It's sad that we don't get to see more of the Mauler in the UFC, but he has been up there against nothing but the best for the longest time and he deserves a stop. Anthony Smith only seems to be growing and his fight IQ is coming out to become some of the best in the world. Please let him fight Rockhold, then I would love to see a Jones rematch.
Before we go, let's give it up for Gustaffson. Yeah, that's you. I don't care if you're on the bus, in bed, at work, just start clapping. He changed the Light Heavyweight division forever and gave his whole heart into every fight he went into. Every single fight was a funned quality performance and I have nothing but respect for him and his future outside of MMA. (But hopefully it's boxing).
Now outside of that, I had fun with this but there's no chance this amounts to our card we have next weekend. Let me know what you think!
Until next time, Freaks.