We had an amazing match between Ngannou and Dos Santos at Heavyweight, along with a Flyweight title eliminator and Welterweight showdown! You can check out my predictions right here, but keep in mind Justin Ledet had to back out because of an injury, being replaced by Dequan Townsend on late notice, along with Griffin v. Murdock being canceled. Tonight, I'm going to be breaking down each fight, in case anyone missed this along with what matches could be on the horizon for the winners here!
Francis Ngannou def. Junior Dos Santos by Round 1 Knockout (HW)
Ngannou opened up in unusual fashion for himself with some crushing leg kicks. Then, he clipped JDS a few times and closed the show. There's not much more to it other than, "DAMNNN THIS MANS SCARY!!!"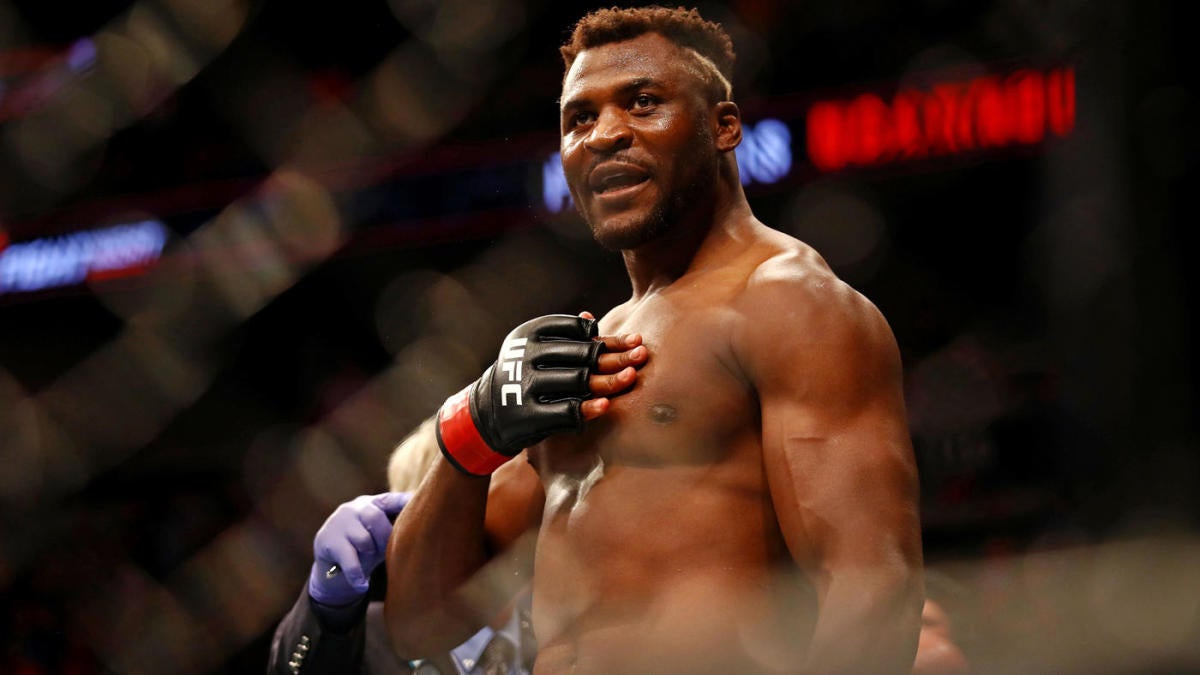 "But this one went past a minute, Ngannou is soo trash".
In all seriousness, Francis Ngannou really deserves the title shot. The last match with Stipe went to decision and Ngannou clipped Miocic a few times in there. After three knockouts in less than three combined minutes, there's no argument. There's no one else besides the winner of DC vs. Stipe.
Ngannou is such a violent force, it's hard to know what to say. His boxing is threatening, actually, it's life-threatening. His kicking is improving, as is his takedown defense. It's hard to deny him anymore, and you certainly don't want to make him angry.
Joseph Benavidez def. Jussier Formiga by Round 2 Knockout (FLW)
An early eye cut didn't stop Benavidez. His scrambles got him out of dicey situations on the mat right back to the feet where he pieced Formiga apart. A high kick was the beginning of the end for Formiga when Joey B came in with a flurry to turn out the lights. Benavidez looked almost perfect in there, his biggest failures were when he slipped like 47 times, but he got a clear cut win.
The only path forward for Benavidez is fighting Cejudo. Although Cejudo is supposedly out until 2020 and is eyeing bigger fights for bigger checks, I hope Cejudo has the decency to defend his OG belt after becoming double (or sorry, triple) champ, something none of the others have done (until Nunes next weekend). I hate to get ahead of myself, but I think Benavidez gets the win. Aside from his prior win over Cejudo, Joe has the ground skill and impeccable scrambles to get out of any dicey wrestling submissions, along with being one of the most dangerous strikers to ever grace the Flyweights.
Demian Maia def. Anthony Rocco Martin by Unanimous Decision (WW)
Once again, Demian Maia showed off his elite submission game. Martin was well-prepared and knew what he was doing, at least enough to avoid the finish. After Maia had the decision secured, it seemed like he gave up a bit and just sort of waltzed his way into the decision. Maia is so credentialed and so experienced, I don't know where he can go from here. Martin does have a nice future and was actually able to rock Maia late int the third, so once again, I will say… to hell with weight cuts.
Vinc Pichel def. Roosevelt Roberts by Unanimous Decision (LW)
Roosevelt Roberts started off looking amazing and giving every bit of credit to the hype behind his name. He was piecing up Pichel and continued to throughout the fight. Roberts showed holes when it came to his wrestling defense. He didn't require the most effort to be taken down and when he was, it became Pichel's turf. While Roberts was never in serious danger, the points piled up against him quickly. He was impressive even in the loss, showing off an improved striking game, although a stifling wrestling game may be the key to beating him in the future.
Pichel had it worse for the wear in the first round but rallied quickly in the second. While the second round was certainly close, the third was a blowout where he smothered Roberts. When Pichel began pouring on his own pressure, it was a bad night for Roberts. Pichel is looking to fight more often. Well good news buddy, because I have just the match for you. Magomed Mustafaev, come get some.
Drew Dober def. Marco Polo Reyes by Round 1 Knockout (LW)
Dober clipped Reyes and sent him to sleep. The biggest problem for Reyes seems to be his chin after all those wars and in my will to pick an underdog I underestimated the power of Dober. I'm not sure who the next match is for Dober at the stacked Lightweight division, but I'm liking Daniel Teymur for him. I'm not sure how I feel about the future of Reyes now for the UFC, unless he takes some serious time off to work on that chin.
Alonzo Menifield def. Paul Craig by Round 1 Knockout (LHW)
Now this was a KNOCKOUT. Craig used his usual style of trying to lure his opponent to the mat. It didn't work out when Menifield grabbed him, went into side control, and pounded him out. There's not much to break down here. We already knew Menifield has power and we already knew Craig will do whatever to get the fight to the ground. Menifield showed a tendency to clinch up, but it hasn't been a problem yet. After two submission experts, I would like to test Menifield against another striker, perhaps Ion Cutelaba or Ryan Spann.
Ricardo Ramos def. Journey Newson by Unanimous Decision (BW)
That's right, Jon Anik. This was a hell of a fight. Journey Newson came in as a late replacement and showed himself incredibly well against one of the most promising in the division. His grappling was really good against one of Brazil's own and he almost caught the massive Ramos in a guillotine. Ramos and his elite striking made the cut once again, however. He landed quite a few ridiculous spinning shots and the chin of Newson is incredibly respectable for standing up to that.
Newson looked amazing and I think he will be very impressive when he does not have to deal with the pressure of Ramos stifling his movement. Ramos looked amazing and completely recovered from his knockout loss to Said Nurmagomedov. I am excited to see more of the young Brazilian… how about Nathaniel Wood? As for the debut fighter in Newson, I think him against striker Brad Katona could provide an amazing match for the ages!
Eryk Anders def. Vinicius Moreira by Round 1 Knockout (LHW)
The atrocious boxing of Moreira came through here for Anders. A brutal overhand right led to an unneeded pounding before the ref stepped in. Moreira is too much of a specialist for the UFC and I'm not liking his place here long term. Anders will definitely stick around. Aside from now being a name draw, his power and athleticism is always a good time. Now he is off his skid and looks like he has renewed ground defense here.
Anders is a favorite of Dana White for his "Yeah, I can fight tomorrow" attitude and I can't say I disagree after this. It's always fun to watch him, even in a loss. I'd like to see him fight Dalcha Champion from earlier in the night, but we all know he will take whatever match he is offered next.
Jared Gordon def. Dan Moret by Unanimous Decision (LW)
The hometown crowd wasn't able to make the difference here for Dan Moret. Once again, he was outdone once again by his own hand. He was dishing out some real damage against Gordon on the feet, but couldn't stop himself from looking for the submission. Gordon used his position to dominate the fight and take home a hearty win. For the next match, I would love to see Gordon against fellow brawler Lando Vannat. Let's make it happen!
Dalcha Lungiambula def. Dequan Townsend by Round 3 Knockout (LHW)
This was a fight of control and all-around performance for Dalcha Lungiambula. He surged forward with bursts of speed with an amazing ground game. He showed off that judo black belt along with impressive wrestling. Those first two rounds of domination, although without much damage, on the ground were finished off when he put Townsend to sleep quickly with a left hook and short right. He showed an impressive and dominant (there really isn't another word for that) performance here and I'm excited to see him against higher competition.
Although LHW is on its way up, there is still room for Lungiambula to get his name up there along with all the other emerging contenders. After a performance like that, "Champion" definitely deserves an uptick in competition. I'm thinking Saparbeg Safarov or even Eryk Anders, both of which will test his performance in his respective martial arts.
Amanda Ribas def. Emily Whitmire by Round 2 Submission (SW)
After a bit of trading, Amanda Ribas' judo training came in and she found her way on top of Whitmire and quickly onto the back. The defense of Whitmire came in clutch as she reversed the position and finished off the round on top. The second round went about the same, but Ribas found the submission this time around.
Unluckily for Ribas, she's in the most stacked Women's division of the UFC. However, a match with Hannah Cifers could boost her up the rankings and explore her ability against a striker. I liked what I saw from Ribas and I can't wait for more. If Ribas is smart, she'll get back in there quickly after not taking any damage and getting off of her USADA suspension.
Maurice Greene def. Junior Albini by Round 1 Knockout (HW)
Maurice Greene came in looking to be in incredible shape, aside from some nice love handles. It showed early. After throwing all sorts of leg and teep kicks, Greene dropped Albini. After Albini made it to his feet, he cracked Greene a bit, but that rush didn't last once Greene knocked "Baby" down again and finished the show with some elbows.
This is a big win for Greene, especially since he hasn't been able to show his power often in the cage. After this amazing performance, he deserves a top rung opponent. Although Greene called for Arlovski, Arlovski is already booked and coming off of a three-loss streak. I would like to see The Crochet Boss take on a striker like Tai Tuivasa or Augusto Sakai.
What a night of fights. We only have more coming with 7 more weeks IN A ROW of UFC cards!
Until next time, Freaks!