Yayyy, more of The Office!
If you don't like this show, I don't like you.
Probably not. Maybe, but probably not.
The Office did an incredible job at meshing comedy and heartfelt moments, and nothing shows this off better than the romantic relationships between all the characters. Some are ill-fated, some are downright grueling to watch, and others hit you right in the sweet spot.
5. Phyllis and Bob Vance
The longest lasting couple on the Office comes between the motherly Phyllis and non-office member Bob Vance of Vance Refrigeration. We don't see a ton between the two of them, but they do match incredibly well for when we do see them. Aaaand, that's about it.
4. Jim and Karen
Jim's first appearance on this list (yeah, you already know the other one) comes through in Karen. After he is rejected by Pam, Jim heads on over to the Stanford branch, where he meets Karen. Their match is really incredible, and although it doesn't last due to our number one slot, their match together is so much fun to see. Karen plays into Jim so well, and is so sweet to him, despite his clear affections for Pam.
3. Michael and Holly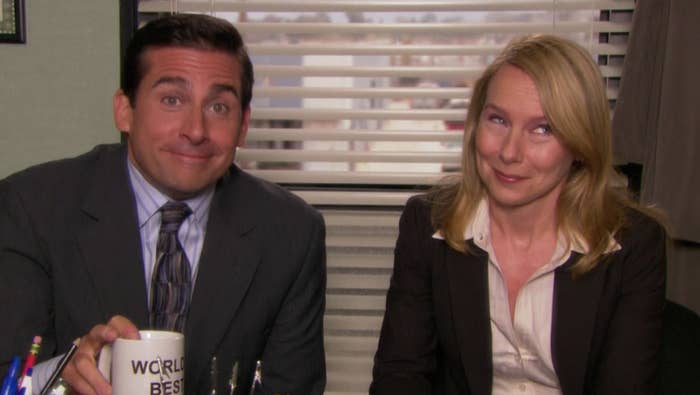 From Carol to Jan, we see Michael in numerous situations desperately looking for his match. It ends up being in Toby's HR replacement, Holly, who is just as goofy and fun-loving as Michael is. Funny how Michael's most-hated coworker transforms into his most-loved.
They match so well and bounce off each other at this rapid-fire rate that it is so much fun to enjoy. Although Holly ends up taking Michael away from the Scranton branch, their match is truly one for the ages.
2. Angela and Dwight
Although the relationship between the two office sticklers went through many dicey periods, with Angela mixed up with the likes of Andy and The Senator, we see them get together for good (probably) towards the end. Their child together is kept a secret, even to Dwight, for the longest time. However, eventually their undercover love goes mainstream in The Office and we see that classic cheeky Dwight grin.
1. Jim and Pam
This one is definitely not a surprise for anyone even remotely in touch with the series. The iconic couple didn't take as long to get together as certain people on Friends, but the tension was there from the beginning. Even from the second episode, you find yourself rooting for that loser Roy to get out of there and for Jim to finally have his shot.
We see them get together on Season 4, and they have a family shortly after that. We get to see them go through ups and downs, especially a tumultuous period during Season 9, but nothing is better than this relationship. Best relationship there has ever been or ever will be.
I'm right in the middle of binge-watching the whole series again, so I'm sure there will be more 'The Office' content to follow. In the meantime check out the best episodes or maybe the most underrated characters from the iconic series.
Later, Freaks.