Unfortunately, we are in an awkward period of forced inactivity, not just in the world of MMA, but all of sports and practically the whole world as well. Many of us die-hard MMA fans have been stuck in an awkward whirlpool without our weekly face-smashing to relieve the stressors of daily life.
Well, have no fear! Even though March Madness might have been shut down, MMAdness is just kicking off!
We have 64 of the greatest knockouts that our violent sport will ever see seeded up against one other, and it is up to YOU, my lovely reader, to decide who moves on!
Day 1 saw not a single upset, even number 32 seed Henderson vs Silva II coasted on by majority over Matt Hughes' slam KO.
---
Pat Barry vs. Cheick Kongo (#9) vs. Luke Rockhold vs. Michael Bisping II (#56)
One of the greatest comebacks ever is also one of the greatest knockouts to occur. Pat Barry had Kongo in all sorts of deep trouble before overextending himself with his power punches and ending up receiving a kiss from the right hand of Kongo.
This one made the list less off the devastation of the knockout, but more of the story around the fight. Michael Bisping was simply that always entertaining journeyman who put on good fights and had the UK at his back. When he stepped in as a late notice replacement for UFC 199, he was a massive underdog against Rockhold, but settled their beef halfway through the first round.
---
BJ Penn vs. Caol Uno I (#24) vs. Gary Goodridge vs. Paul Herrera (#41)
Both these matches are some nice throwbacks, first going all the way back to UFC 34. Before Jorge Masvidal, one of the fastest knockouts to occur was from The Prodigy. BJ Penn, in just his third professional fight, surged forward into Caol Uno to end the fight in mere seconds, making Uno look grossly underprepared despite coming in as the favorite.
All the way back at UFC 8, aptly named David and Goliath, Gary Goodridge took no time at all to devastate his opponent with violent elbows from an improvised crucifix position. Although "Big Daddy" would fall short in the tournament final to Don Frye, his 13 second devastation of Herrera immediately became a classic.
---
Wanderlei Silva vs. Mirko "Cro Cop" Filipovic II (#25) vs. Michael "Venom" Page vs. Evangelista Santos (#40)
Before Edson Barboza, the lord of head kicks was Mirko Cro Cop. His infamous quote, "Right leg, hospital, left leg, cemetery" is the perfect description of what the Croatian is able to do with his kicking game. Of course, you don't have to tell Wanderlei Silva (or other entries on the list) that since he felt it nice and clean. PRIDE never die.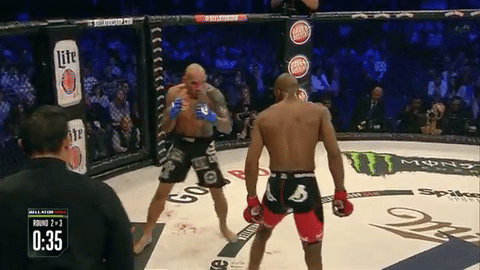 The flying knee has become a significantly more common move as of late than in years prior, but it still takes serious skill and sometimes luck to land it properly. But when you do, it's assuredly going to be a KO. Just ask Cyborg Santos, who had his skull fractured by MVP.
---
Randy Couture vs. Lyoto Machida (#8) vs. Paul Daley vs. Scott Smith (#57)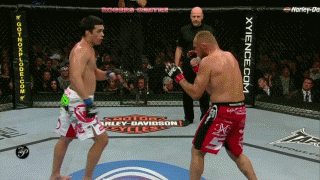 Another front kick to the face? Kind of but not really. Machida went full 'Karate Kid' here, uncorking a crane kick upon the legend that is and was Randy Couture, flooring him in devastating fashion and ending the career of The Natural at a 47 years of age.
Strikeforce is making a well-deserved appearance on our list with the power puncher that is Paul Daley. Known well from his brawl with Nick Diaz, the brute power that Daley possesses can change a fight in an instant and it certainly did just that again Scott Smith, where a single counter left was enough to start the 'plank' trend.
---
Once again, the winners are completely decided upon by YOU the reader. Simply check out @film_fight on Twitter or look up Film Fight Freaks and vote in the poll there!
Tune in every other day for the next four matchups of the tournament!